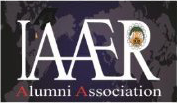 Welcome to IMER Alumni Forum !
Vision
To strengthen Alumni Relations.
Mission
To foster symbiotic relationship between the Alumni and the Alma Mater.
Objectives
To enable the Alumni to participate in the institution development process.
To help alumni in coming together and networking.
To offer MDP/EDP to our Alumni as a part of continuous Education.
To tap the Alumni Resource for Internships/Placements and Institute Industry Interaction.
Your one point Alumni Connect at IMER
Contact Details
Coordinator: Ameet Kulkarni & Dr. Kirti Shivkumar,
Email: ameet_kulkarni@klsimer.edu & dr.kirti@klsimer.edu
Phone: 9980936364 , 9449007550
Contact Number:0831-2481745,2405511
'Samhita' - The Alumni Meet
Institute organises Samhita every year which provides opportunities for Alumni to associate with their alma mater.
What you can do here?
You can connect with your IMER pals and get to know the current activities at the Institute. You can get updates about the Alumni activities; cherish and share your memories at IMER. You can also share your ideas and experience.
Register to be a part of IMER Alumni Association