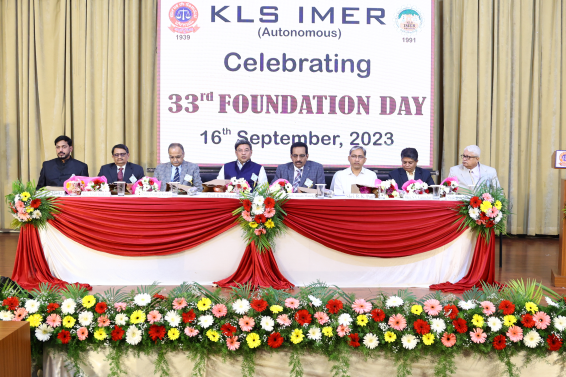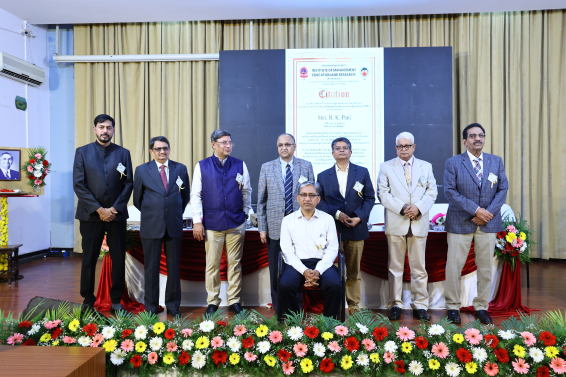 Karnatak Law Society's Institute of Management Education and Research (KLS IMER), Autonomous, Belagavi Conducted its annual flagship event 'Foundation Day' on September 16th, 2023 to mark its 33rd year of inception. The day is chosen to commemorate the birth anniversary of KLS patron Late Shri Rao Saheb B. M Gogte.
As the convention goes, KLS IMER felicitates renowned entrepreneur from Belagavi for his accomplishment. This year Shri R K Patil, Cofounder and CEO of Vayavya Labs, Belagavi is honoured as Entrepreneur of the year 2023.
Shri R K Patil is a known name for his entrepreneurial skills and journey. Starting from Belagavi his business conquered the western hemisphere predominantly USA and eastern hemisphere predominantly Japan. Having 11 US Patents under his belt, he is considered as veteran in the semiconductor software industry and embedded software solutions.
In his acceptance speech, he has accentuated importance of taking risk and building long term career. He has discussed the concept of materialistic growth and holistic growth. While receiving the honour he has thanked to his college teacher, Professor Venugopal for all his guidance and support.
Dr R Srinivasan, Professor of Strategy and Chairperson of Master of Business Administration (MBA) at IIM Bangalore was the chief guest of the ceremony. A fellow of IIM – Ahmedabad, Dr Srinivasan is an academician of high repute and would keep on visiting the globe to advise industry and academia. He is most sought after resource person for planning, and strategic performance management for various multinational, government, public, and private organizations.
In his keynote address Dr Srinivasan discussed the making of digital India. How Bharat is able to scale with speed and create wealth for its countryman was the theme of the speech. With numerous examples he has accentuated the importance of building digital infrastructure for the nation and the benefits of the same.
Shri Anant Mandagi, President, KLS, Belagavi presided over the function. In his presidential remarks immensely acknowledged the contribution of Shri R K Patil and his decision to sticking to Belagavi for building the business and hence the ecosystem. He also reiterated the need of building wealth for the family and the nation and following the dream.
Mr. R. S. Mutalik GC, KLS IMER in his welcome address expressed his deepest gratitude to KLS patron Shri Rao Saheb B. M Gogte at the behest of KLS Management and staff. He emphasized on the convention of KLS IMER to felicitate entrepreneurs on the eve of Foundation Day.
Shri Pradeep Sawkar, Chairman, KLS, Belagavi, Shri Vivek G Kulkarni, and Shri S. V. Ganachari, Member Secretary, GC, KLS IMER were the guest of honor. Shri Ram Bhandari, Vice President KLS, and other members of KLS Management were present during the occasion and offered floral tributes to Late Shri Rao Saheb B. M Gogte.
Dr Arif Shaikh, Director, KLS IMER proposed the vote of thanks. The students Compeered and Dr. Shailaja Hiremath read out the citation. Miss Lakkshi and Mr. Nikhil compeered the ceremony. Miss Kartika and team invoked the almighty with a soulful song. Foundation Day 2023 was coordinated by Dr. Shreekant Naik and Prof Sumanth Desai.